Secure your

Manual Payments

in 4 steps
Read this comprehensive ebook and learn how to mitigate risk of fraud during the manual payments process.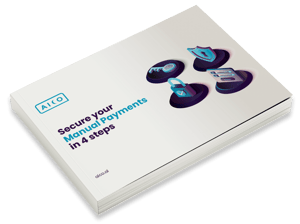 This eBook will look at the top four areas where the typical manual payment process allows for fraud, and explore ways to make these payments secure, properly approved, and evidenced.
Poor internal controls, missing evidence and journal entries, and multiple human touchpoints where data can be changed
make them the focus of auditors hunting out fraudulent activity.
Download it and learn:
How to rearrange your internal controls to protect the payments?
How to eliminate the threat of payment tampering?
What is the most reliable way of closing the payment loop and securing the entire process?
Saves the way to track irregularities and provides a clear audit trail.